Quick Growth Presents Opportuntities, Challenges to Fat Boy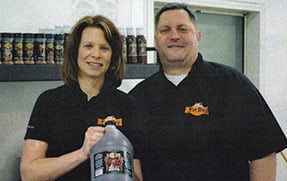 May 15, 2014 – Fat Boy Natural BBQ, which markets its own brand of barbecue sauces and rubs, grew 75 percent in the first quarter of 2014 – before barbeque season had even begun. This presented a major challenge to the Lincoln firm which has two full-time an two part-time employees. Part of that growth, but not all of it, co-owner and CEO Kirk Malzer attributed to the 50,000 product sample requests the firm received in a 60-day period following the posting of a link on Reddit in January.
"The free sample offer had been on our website for about six months with nowhere near that kind of response," said co-owner and Chief Marketing Officer Erin Malzer.
Upon investigation, the Malzers found that over the three weeks following the Reddit posting more than 150 sites had linked to the Fat Boy website.
The firm has so far mailed about 2,000 samples, leaving 48,000 people who have not received its product. Much of the firm's growth is coming from consumer demand for healthy products, Kirk Malzer said.
"Our products are gluten-free and natural, which is important to many people today," he said.
The firm sells its products to nearly 3,000 stores in 29 states through its distribution channels – food brokers, wholesalers, and warehouses – based in Michigan, Iowa, Chicago and Denver. The Malzers try to keep as much money as possible in Nebraska, the exceptions being its distributors and the manufacturers of its sauces in Kansas City because the state doesn't have those services, Kirk Malzer said.
"We're a family-owned local business, and we want to support other privately-owned local businesses," he said.
Fulfilling the requests for samples proved challenging not only in terms of manpower but it was also expensive. The firm was spending $2.25 to send out each sample itself, so it contracted with a local company to do the packaging and mailing, which reduced the cost to $1.00 per sample, Kirk Malzer said.
Keeping up with Federal regulations also is challenging, especially because of the ingredients that must be listed and how they must be listed on the label, Erin Malzer said.
"For example, some people are allergic to paprika, so we have to put that on the label," she said.
The firm's main goal for this year is to expand its United States network, adding more retail locations. It is focusing on the south and on California where warm weather allows people to barbeque all year long, but he Malzers have seen a significant sales increase in Colorado, which Erin Malzer attributed to more and more customers using the firm's products in the kitchen.
"We're shifting our emphasis from barbecue sauce to spices and updating our website with recipes," Kirk Malzer said. "We found the people are using our products in the cold months."
The Malzers plan to expand into Canada and eventually into Europe.
"Canada is one of the hardest countries to export to," Erin Malzer said. "If we can get into Canada we can get into anywhere. Barbecue is big in France, Germany, and most of Europe That's a great opportunity for Americans because if you're barbecuing in Europe you can use the sauce made where it all began."
Barbecuing started in the southern United States because people couldn't afford good meat, so they invented barbecue to make it edible, she said.
"Barbecue is uniquely American," Kirk Malzer said. "They cook it a low temperature for a very long time."
Article published in the Lincoln Business Journal by David Kubicek.