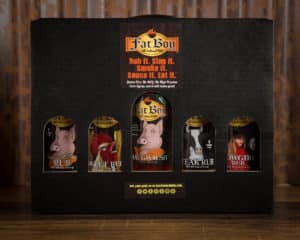 Every business has customers they want to thank. Have you considered sending a gift to them? Let us handle that for you! Our program is EASY as 1, 2, 3. We'll even ship them for you because we know that while you want to thank you customers, you maybe don't have time to deal with it. Just send us a list of your clients and take it from there. We'll charge you back the shipping … but we have great negotiated rates with several carriers and will pass those savings onto you.
Choose from the option that best suits your needs:
Gift Packs: Our gift packs feature one 12 oz sauce and four 4 oz rubs all in a convenient gift pack. Choose the products you want or let us send our standard gift pack (All Purpose, Sweet, Cowgirl and Steak Rubs; Haugwaush Sauce)
Choose Your Gift: Make a custom gift to include whatever you want – including rubs, sauces, marinades and Bloody Mary mix.
Let us be your resource for Corporate Gifts! Corporate gifts are great for:
Sales Representatives: Tell your customers you appreciate their business.
Financial Advisors: Give them a gift for their commitment to you.
Realtors: Send a gift to those you buy or sell homes for.
CEOs: We know you all have top customers you want to thank.
Small Business Owners: Tell your top customers you appreciate their business.
Much More … We know know you have someone you want to thank!
Are you interested in learning more and getting a quote? Please contact us at the form below and we'll be in touch with you.