Premium All Purpose Gluten Free Natural BBQ Rub 4 oz
9 in stock
Categories: 2/5, 4 oz., All Products, Beef, Chicken, Kansas City, Pi Day, Pork, Premium All Purpose Rub, Rubs, Seafood, Vegetable
The unique blend of spices in our premium rub adds a tantalizing flavor to all your grilled and smoked meats. It will seal in the juices that keep meat moist and tender, while adding that "just right" seasoning that beckons the hungry crowd home to the dinner table.
Warning: Be prepared to fight the desire to pig out while eating.
All Natural. Gluten Free. No MSG.
Best On:





Heat Level:



Lightly coat meat surface with rub prior to cooking, smoking, or grilling. It is also excellent added to baked beans, casseroles and potato dishes.
Store in a dry place. Made in the USA.
UPC: 8 50624 00001 2

INGREDIENTS
Salt, Spices, Onion and Garlic, Paprika, Chipotle Flavor (Jalapeno, Maltodextrin, Hickory Smoke Flavor), and Less than 2% Soybean Oil as a Processing Aid. Manufactured in a Nut-Free Facility.
NUTRITIONAL FACTS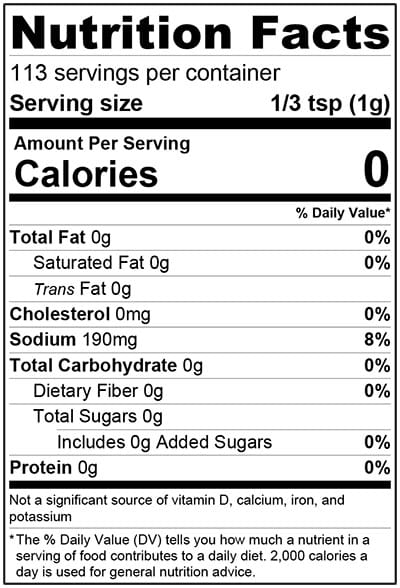 EXPIRATION
All of Fat Boy Natural BBQ's 4 oz. rubs contain a "best by" date. The USDA states that a "best by" date is used as a guideline for a product to be on the shelf before purchase. It is in no way an expiration date. According to the USDA most products are safe to consume long after the 'best by" date has passed. All Fat Boy Natural BBQ 4 oz. rubs have a "best by" date of three years after packaging. Any products that are "short dated" are sold at a discount and the date is stated in the listing when purchasing the product.
Related products
Rated 5.00 out of 5
$

12.40