Pecan Natural BBQ Rub 4 oz
23 in stock
Categories: 2/5, 4 oz., All Products, Chicken, Pecan Rub, Pi Day, Pork, Rubs, Seafood, Southern, Thanksgiving, Vegetable
Hog tie every cowboy's appetite with our quality pecan rub. While the seasoning seals the meat surface to guarantee a moist, flavorful meal, the calling aroma will revive memories or fixun's cooked on a pecan wood campfire.
Warning: Rustle up more tableware. With pecan rub on the grub mealtimes are gonna become large gatherin's.
All Natural. No MSG.
Best On:




Heat Level:



Lightly coat meat surface with rub prior to cooking, smoking, or grilling. It is also excellent added to baked beans, casseroles and potato dishes. Especially good on seafood. Store in a dry place. Made in the USA.
UPC: 8 52098 00136 6
INGREDIENTS
Sugar, Salt, Dehydrated Garlic & Onion, Spices, Molasses Powder (Molasses, Wheat Starch, Silicon Dioxide, Sunflower Lecithin), Paprika, Natural Flavors Including Smoke and Pecan Type Flavors (Contains Milk), Maltodextrin, And Less Than 2% Soybean Oil Added As A Processing Aid. Contains: Soy, Wheat, Milk. Manufactured in a Nut-Free Facility. Contains No Nuts.
NUTRITIONAL FACTS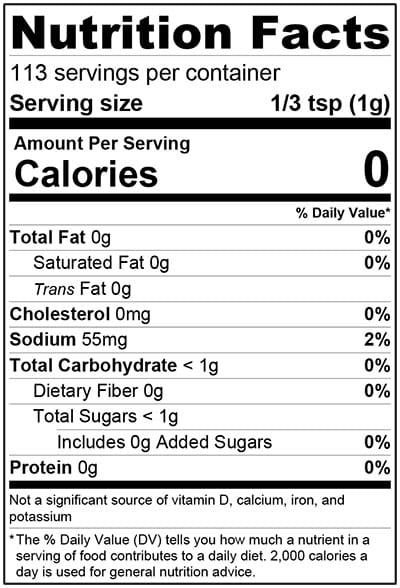 EXPIRATION
All of Fat Boy Natural BBQ 4 oz. rubs contain a "best by" date. The USDA states that a "best by" date is used as a guideline for a product to be on the shelf before purchase. It is in no way an expiration date. According to the USDA most products are safe to consume long after the 'best by" date has passed. All Fat Boy Natural BBQ 4 oz. rubs have a "best by" date of three years after packaging. Any products that are "short dated" are sold at a discount and the date is stated in the listing when purchasing the product.
Related products