Trail Blazer Gluten Free Natural Wing & Hot Sauce 12 oz
23 in stock
Categories: Other, All Products, Beef, Chicken, Pork, Seafood, 4/5, Pi Day, Sauces, 12 oz., Trail Blazer Wing & Hot Sauce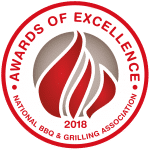 Winner 2022 NBBQA Awards of Excellence – Third Place – Vinegar Spicy BBQ Sauce
Winner 2021 NBBQA Awards of Excellence – Third Place – Vinegar Spicy BBQ Sauce
Winner 2019 NBBQA Awards of Excellence – First Place – Hot Sauce
Winner 2018 NBBQA Awards of Excellence – First Place – Hot Sauce
Add a little heat to your meat. Our special three pepper blend of cayenne, jalapeno and habanero are sure to please.
For the best buffalo wings you've ever had, mix 1/2 cup with 1/3 cup butter or margarine per 5 lbs of wings. Cook wings until crisp. Toss mixture onto wings in a metal bowl.
All Natural. Gluten Free. No High Fructose Corn Syrup. No MSG.
Best On:




Heat Level:

Shake well before using. Refrigerate after opening. Made in the USA.
UPC: 8 52098 00113 7
INGREDIENTS
Aged Red Cayenne Peppers, Distilled Vinegar, Water, Salt, Dehydrated Garlic, Jalapeno Peppers (with Calcium Choloride), Habanero Peppers, Xanthan Gum. Manufactured in a Nut-Free Facility.
NUTRITIONAL FACTS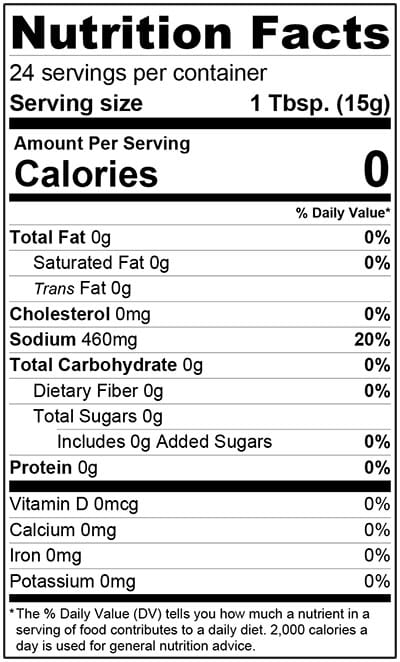 EXPIRATION
All of Fat Boy Natural BBQ 12 oz. sauces contain a "best by" date. The USDA states that a "best by" date is used as a guideline for a product to be on the shelf before purchase. It is in no way an expiration date. According to the USDA most products are safe to consume long after the 'best by" date has passed. All Fat Boy Natural BBQ 12 oz. sauces have a "best by" date of two years after packaging. Any products that are "short dated" are sold at a discount and the date is stated in the listing when purchasing the product.
Related products