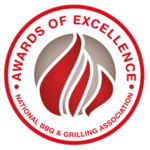 Second Place Winner – 2020 NBBQA Awards of Excellence – Marinade – Bovine Bonanza Marinade

Lay down the charcoal, light your fire and bring on the beef. Hickman's matching rub and injectable marinade adds the flavor you are looking for to have a bovine bonanza right in your own back yard.
Water, Salt, Worcestershire Sauce Concentrate (Distilled Vinegar, Molasses, Corn Syrup, Water, Salt, Caramel Color, Garlic Powder, Sugar, Spices, Tamarind, Natural Flavor, Sulfiting Agent), Sugar, Xanthan Gum, Citric Acid, Deyhdrated Onion & Garlic, Caramelized Sugar Syrup, Potassium Sorbate (Preservative), Spices. Manufactured in a Nut-Free Facility.
All of Hickman's 12 oz. marinades contain a "best by" date. The USDA states that a "best by" date is used as a guideline for a product to be on the shelf before purchase. It is in no way an expiration date. According to the USDA most products are safe to consume long after the 'best by" date has passed. All Hickman's 12 oz. marinades have a "best by" date of two years after packaging. Any products that are "short dated" are sold at a discount and the date is stated in the listing when purchasing the product.
| | |
| --- | --- |
| Weight | 1.2 lbs |
| Dimensions | 2.5 × 2.5 × 8 in |
| BBQ Style | Other |
| How Much Do You Want? | |
| What Are You Cooking? | |
| What Are You Looking For? | |
Related products