Teriyaki Gluten Free Natural BBQ Rub 4 oz
6 in stock
Categories: 0/5, 4 oz., All Products, Beef, Chicken, Other, Pi Day, Pork, Rubs, Seafood, Teriyaki Rub, Vegetable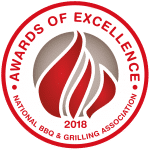 Sixth Place Winner – 2019 NBBQA Awards of Excellence – Poultry Rub – Teriyaki
Confucius say teriyaki every day keeps the doctor away. Since we couldn't find one we took the taste of a traditional teriyaki sauce and put it into a seasoning. The ginger, soy and garlic flavors of traditional teriyaki really come through in this dry version of teriyaki sauce. Give a heavy handed shake of this unique flavor onto beef, chicken, pork or fish to enhance it and get the taste of teriyaki without having to marinade. Great for everything from Asian recipes to kebabs to wild game. Samurai chicken approved.
All Natural. Gluten Free. No MSG.
Best On:





Heat Level (0):





Lightly coat meat surface with rub prior to cooking, smoking, or grilling. Store in a dry place. Made in the USA.
UPC: 8 52098 00155 7
INGREDIENTS
Sea Salt, Sugar, Maltodextrin, Soy Sauce (Soybeans, Salt), Dehydrated Onion & Garlic, Sesame Seeds, Yeast Extract, Ginger, Natural Flavors, Worcestershire Sauce (Distilled Vinegar, Molasses, Corn Syrup, Salt, Caramel Color, Garlic Powder, Sugar, Spices, Tamarind, Natural Flavor, Sulfiting Agent), Sherry Wine Solids, Natural Flavors, Mushroom Powder, and Less than 2% Soybean Oil & Silicon Dioxide to Prevent Caking. Contains: Soy. Manufactured in a Nut-Free Facility.
NUTRITIONAL FACTS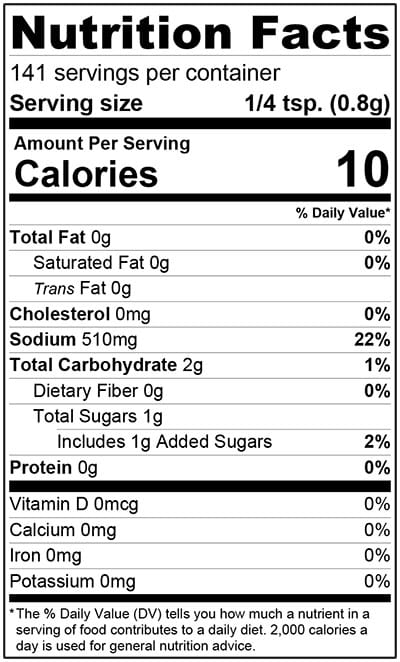 EXPIRATION
All of Fat Boy Natural BBQ's 4 oz. rubs contain a "best by" date. The USDA states that a "best by" date is used as a guideline for a product to be on the shelf before purchase. It is in no way an expiration date. According to the USDA most products are safe to consume long after the 'best by" date has passed. All Fat Boy Natural BBQ 4 oz. rubs have a "best by" date of three years after packaging. Any products that are "short dated" are sold at a discount and the date is stated in the listing when purchasing the product.
Related products